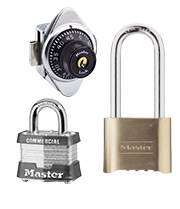 Custom Built. Commercial Quality.
Complete Security.
Master Lock, the worldwide leader in portable security products, continues to set the standard for quality and selection. Building on this tradition, Master Lock ProSeries® and Commercial padlocks can be customized to meet your specific needs. Our make-to-order capabilities allow us to create tailored security solutions for your applications. Choose the best width, material, shackle diameter and length, product weatherability, as well as multiple keying options or laser engraving to secure your property.
Keying & Custom Services
Take total control of your security products with keying & custom services, tailoring these products to your specific needs, including multiple keying options, key control, laser engraving, custom marking and various body sizes and shackle options. These options are available for you to completely customize your security lock system tailored to your specific needs.